As the first of its kind, the Department of MIS at NCCU was established in 1984, leading and leaded other national universities in Taiwan. The Department inaugurated with the doctoral program was set in 1996, it has been one of the most complete and excellent educational institutes for nurturing MIS professionals.
The mission of this Department is to provide an integrated environment for effective education and research in the field of MIS. Its ultimate goal is to better promote Taiwan's economic and commercial social viability sustainability through nurturing highly skilled technical technological professional staff, developing advanced theories and practices for information systems development and management, and enhancing.
For more information, please visit https://mis2.nccu.edu.tw/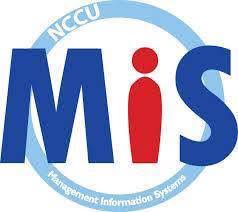 Curriculum
The Department provides the following categories of courses for students:
Business and management knowledge
Information management
Decision science
Information technology
System integration and application
Our course curriculum comprises of a minimum 28 credit units of coursework, of which 17 credits are required courses and 11 credits elective courses.
Topics in Information Management
Advanced Research Methods
Seminar in Information Systems and Technology
Advanced Quantitative Methods
Seminar
Academic Ethics
Fall Semester
Advanced Collaborative
Mobile Commerce and Big Data Management
Artificial Intelligence and It's Applications
MIS Papers Review
Data Mining and Big Data Analytics
Information Systems Theory
Electronic Commerce Electronic Business and Electronic Government
Spring Semester
Mobile Commerce and Big Data Management
The Application Research of Artificial Neural Networks, Metaheuristics algorithms
Financial Trading Strategy and Big Data Analytics
Blockchain and Smart Contract
Blockchain, Ethereum and Smart Contracts
Service Science and Service Innovation
Service Science and Intelligent Technology
Program Structure
Credits required for graduation
28 credits
Duration of study
4 to 7 years (max.)
Graduation requirements

Complete Course Credits Required
Pass Qualifying Exams
Meet Points Requirement for Journal Publications
Pass Oral Exam for Dissertation Defense

Degree conferred
Doctor of Philosophy (Ph.D.)
Application Materials
Autobiography in Chinese or English
Postgraduate transcript
Study plan in Chinese or in English
For non-native speakers of English, TOEFL, or TOEIC score, or other proof of equivalent English Proficiency test is required.
Master Thesis
Other Application Materials in the applicant's favor (GRE, or GMAT score)
Please prepare a 2-minutes video or short video clip with a brief overview of your contents spoken in Chinese or English
Encouraging meaningful change since 1958.